Ikebana Flower Arranging
Ikebana is the Japanese art of flower arrangement, also known as kadō (the "way of flowers").

More than simply putting flowers in a container, ikebana is a disciplined art form in which nature and humanity are brought together. Contrary to the idea of floral arrangement as a collection of particolored or multicolored arrangement of blooms, ikebana often emphasizes other areas of the plant, such as its stems and leaves, and draws emphasis towards shape, line, form. Though ikebana is a creative expression, it has certain rules governing its form. The main rule is that all the elements used in construction MUST be organic, be they branches, leaves, grasses, or flowers. The artist's intention behind each arrangement is shown through a piece's color combinations, natural shapes, graceful lines, and the usually implied meaning of the arrangement.

Another aspect present in ikebana is its employment of minimalism. That is, an arrangement may consist of only a minimal number of blooms interspersed among stalks and leaves. The structure of a Japanese flower arrangement is based on a scalene triangle delineated by three main points, usually twigs, considered in some schools to symbolize heaven, earth, and man and in others sun, moon, love & earth. The container is also a key element of the composition, and various styles of pottery may be used in their construction.

Read more about ikebana here.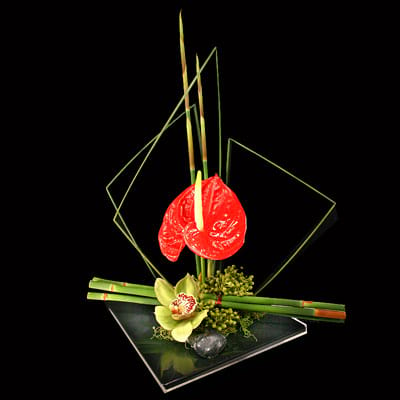 See our Flower Arrangements and contact us if you would like us to make you a special Ikebana style arrangement.